30 Apr

Measure The True Cost of Your Container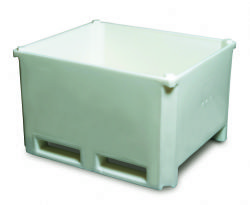 When it comes to purchasing plastic pallet boxes, cheap does not always mean cost effective. There are a multitude of injection moulded plastic pallet boxes available on the market to choose from all with a range of claims, prices and features. Some have attached runners, others are one piece, yet one thing in common with single walled injection moulded containers is the high on-going cost to maintain and replace these containers. This then begs the question of… how much does it actually cost you to purchase and maintain an injection moulded pallet box? What is the total cost of ownership?
Well, the good news is GW Containers offers a FREE on-site cost benefit analysis to measure exactly how much money you are spending (and wasting) each year. The results we have shown customers is quite staggering!!
If your company uses fork lift trucks then there is a chance you will be breaking your existing containers. We will analyze;
The percentage you break each year
How much you spend on repairs
How long your containers last on average
How often do you repalce them each year
How much you could save by switching to a stronger, longer lasting product such as the Saeplast 605 lItre
When we compare all these on-going costs, they soon mount up. With new customers who have switched to the Saeplast 605 container their total cost of owning a "cheap" container over a two year period looked similar to the following example.
Cost of single walled container – £130 each
Cost to repair – £30 each
Cost of corner posts (replace two) – £10
Cost of repair in year two – £30 each
Cost of corner posts (replace two) – £10
Cost to replace single walled container after year 2 – £130 each
Total cost of ownership for two years – £340
After seeing this many existing single walled customers soon switched to the Saeplast containers, resulting in huge cost savings and a far LOWER TOTAL COST OF OWNERSHIP.
As Einstein once said "INSANITY: Doing the same thing over and over again and expecting different results"
To book your Free on-site survey: contact us 01543 279122