11 Mar

Depuration containers provide solution in the storage and purification of live shellfish

Since Britain officially left the EU on January 1st, UK firms have been able to send only pre-purified, ready-to-eat shellfish to buyers in the EU's 27 member states.

Until this year shellfish could be purified after they reached their destination. This has caused a number of issues for UK fishing firms, whose shellfish catches were valued at £393m in 2019.
An innovative solution to the problem:
The requirement for shellfish to be pre-purified has left many in the UK fishing industry requiring an immediate solution to minimise the impact on the transportation of their catch.
Saeplast, a world leader in the production of insulated containers, are answering the call in the form of their 405 and 705 litre PUR depuration and wet storage containers. These innovative products are the only insulated containers of their kind on the market today and mark a radical breakthrough in the storage and purification of live mussels, oysters, clams and other shellfish.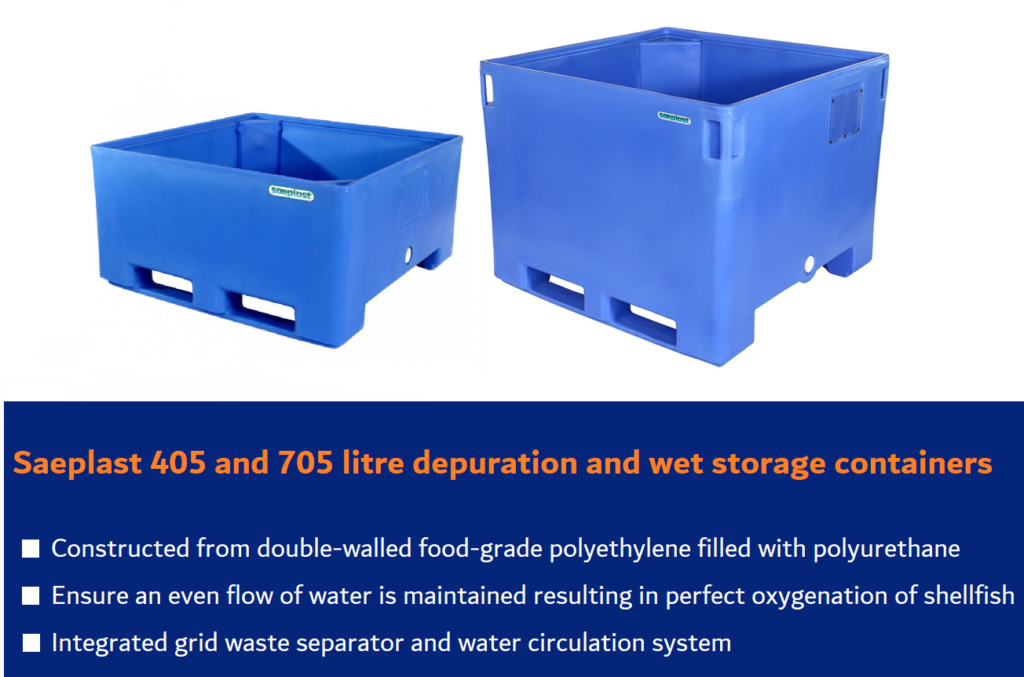 How do Saeplast depuration containers work?
The unique design of the Saeplast 405 and 705 litre depuration containers ensure that an even flow of water is maintained. The result of this is the perfect oxygenation of individual shellfish. The containers are packed with a wealth of technical features, including an integrated grid waste separator and water circulation system. This is designed to achieve maximum flow and water renewal.
Like all Saeplast tubs and containers, the 405 and 705 litre tubs are ergonomically designed for maximum strength, ease of handling, stacking, and optimum hygiene.
They are designed so that they stack perfectly together. Lateral support for the grid is provided along the entire interior perimeter of the box, while corners are rounded for easy wash-down. Easily repaired if damaged, the Sæplast 405 and 705 come with a host of built-in safety features, including integrated water channels, fast release plugs for rapid emptying, and emergency air inlet plugs for use in the event of a failure in water flow. As both tubs operate without the need for any external pipe or drain connections, they are equally at home in both closed and open-circuit systems.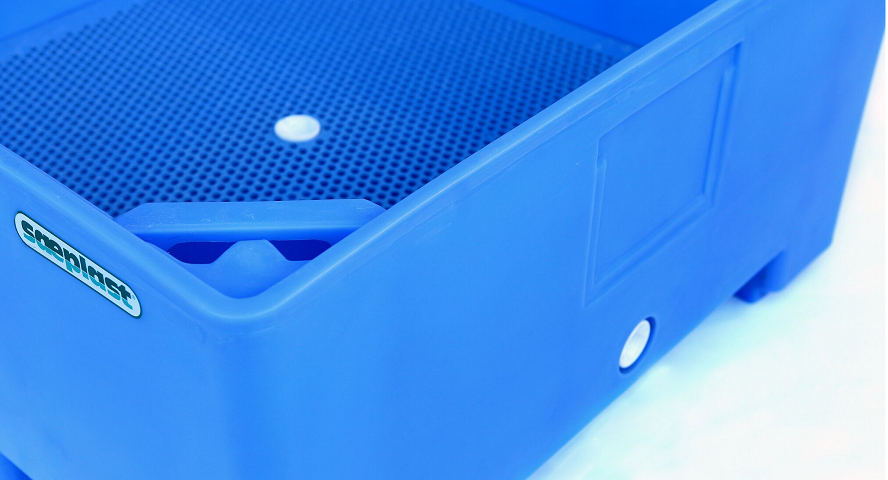 Saeplast 405 and 705 litre puration and wet storage containers are only available in the UK from GW Containers. To speak to us about these solutions call 01543 279 122 today.