18 Sep

Fish Boxes and containers: Getting the correct solutions for use within the fishing industry

When purchasing equipment for use within the fishing industry, it is important to understand the specialised requirements of fish box solutions. GW Containers have over 30 years of experience in serving the fishing industry from sea to store. That's why we can help ensure we provide the correct equipment to meet your needs.

GW Containers have a vast range of re-usable solutions that have been created specifically for use within the fishing industry. Our equipment covers all aspects of the supply chain, from trawlers and boats out at sea to landing and transporting to fish markets and retailers.

Fish boxes:

Plastic Fish boxes have become a key part of the fishing industry as they are used throughout the fishing supply chain, from sea to store.

GW Containers fish boxes are a popular choice for onboard handling when out at sea as they help to preserve the quality of the catch. The durable nature of the fish boxes ensures they thrive in the demanding environment of a fishing boat, whilst they also nest and stack for space saving and efficiency.

Designed to be effective at keeping the fish at the right temperature when filled with ice, the plastic delivers good insulating properties and stops the ice from melting, preserving the fish and ensuring it arrives to its destination in prime condition. Our fish boxes also come complete with corner holes for drainage to ensure that freshly caught fish does not degrade by sitting in water.

Saeplast Insulated Containers:
Saeplast containers are a market-leading, world renown product that are exclusively available in the UK via GW Containers.
Saeplast containers are used throughout the fishing industry owing to their unrivaled durability and temperature retention and control. These features are paramount in ensuring that fish and seafood reach their destination in top condition, without compromise.
The temperature retention and control is achieved by injecting polyurethane insulation directly in to the rotomoulded double-walled containers. For over 30 years Saeplast have developed a unique technique that ensures effective adhesion between the polyethylene walls and the polyurethane insulation for a long-lasting structure that retains temperature control.
This makes Saeplast an ideal seafood supply chain solution that is safe, efficient, hygienic and comply with stringent food safety standards. Available in a range of sizes (from 70L to 1000L) to suit a variety of boat sizes and applications, Saeplast are an essential choice throughout the fishing industry.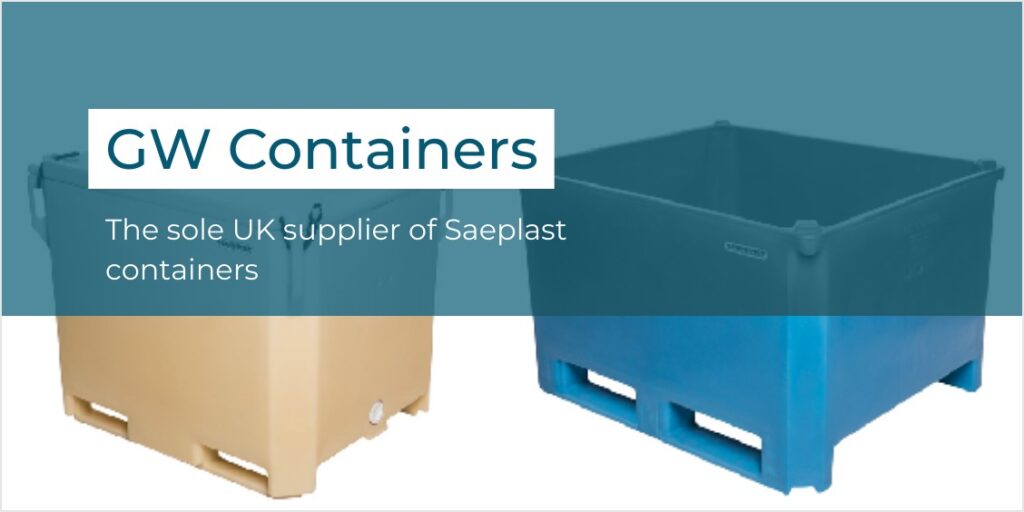 Fish baskets:
GW fish baskets are complete with integrated handles, providing the necessary strength and durability to thrive in the demanding fishing industry.
Used at sea and on shore, these essential plastic fish baskets are available in 44 litre and 58 litre capacity. The versatility and durability of our fish baskets make them an essential item within the fish supply chain. Commonly used on boats for transferring catch such as fish or scallops from the fishing gear to the fish room.
The uniform nature of the product also makes them ideal for use in measuring and weighing. At fish processing factories they are commonly used for weighing products after they have been cut, whilst skippers often use the baskets as measurements for logging their tows, e.g. the last tow caught 10 baskets.
If you're looking for the correct solution to use within the fishing industry, contact GW Containers on 01542 279 122.