30 Apr

GW Containers Join the PPS Group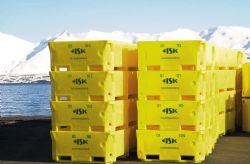 LEADING RETURNABLE PACKAGING COMPANY, PPS, GROWS BUSINESS WITH ACQUISITION OF GW CONTAINERS
PPS, a leading supplier of returnable packaging services, is delighted to announce that GW Containers, the UK's specialist in plastic fish boxes and insulated containers, has joined the group.
GW Containers is the sole UK distributor for the market leading Sæplast insulated containers and the RPC Promens fish box range. GW Containers in partnership with Sæplast and RPC Promens is the UK's leading supplier to the fishing industry and animal by-products industry in addition to supplying preferred products in meat, vegetables, battery recycling, waste and food processing.
The acquisition will enable PPS to expand and enhance its current services to ensure customers have access to an even larger range of packaging solutions. Currently PPS offers the delivery, collection, asset tracking, washing, rental and repair of returnable equipment. The group also offers the sale of a wide range of returnable packaging via Alison Handling, the UK's largest independent stockist, who joined the group 18 months ago.
PPS has enjoyed continued growth in its 15 year history, and now employs more than 150 people across its sites in the Midlands, Grimsby and Kirkham. The company provides cost effective and environmentally friendly returnable plastic packaging solutions across the UK, Europe and Iceland. PPS moves 25 million boxes a year for customers including retailers, food processors and the automotive industry.
David Peggie, CEO of PPS, said: "We've admired the services and reputation of GW Containers for many years and we are proud to be able to take on the exceptional services and impressive customer base. We are also delighted that both Graham and Gregg Witherington will remain with the company in their current roles to continue the further development of the business under the PPS banner"
Graham Witherington of GW Containers said: "We've known of PPS for many years due to the complementary services they offered to our own. Their reputation is second to none and we couldn't think of a better partner to take the business forward."